Corey Haim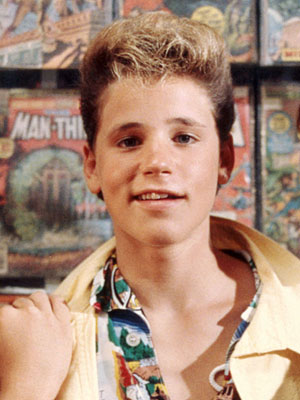 Het gaat lekker in showbizzzzz-land. Net via Twitter het bericht gelezen dat
Corey Haim
is overleden. Een
onopzettelijke overdosis, zo zegt de LAPD
....
Corey was bij ons thuis vooral bekend als jochie van
The Lost Boys
die er achter komt dat zijn oudere broer een vampier is, maar speelde ook in de verfilming van Stephen King's boek
Silver Bullet
en uiteraard
Lucas
, waarin hij het onhandige jongetje speelt die verliefd wordt op een meisjes dat hem in eerste instantie niet ziet staan. Met zijn schuine glimlach en kuiltjes in zijn wangen was 'ie echt ontzettend
cute
.
Volgens zijn biografie op
IMDB
begon hij al tijdens de opnames van Lucas met drinken, en rookte hij zijn eerste jointje tijdens The Lost Boys. Anderhalf jaar later was hij aan de coke en weer anderhalf jaar daarna zat hij aan de crack. Vervolgens raakte hij verslaafd aan valium, zoveel dat hij een hersenbloeding kreeg omdat hij er wel 85 per dag slikte...
De laatste keer dat ik hem op de cover van een DVD zag staan was toen
Lost Boys,The Tribe
uitkwam, maar daar had ik helemaal geen behoefte aan. Volgens IMDB stond er nog een hoop op stapel, maar daar moeten ze dan nu iemand anders voor zoeken.
Drugs suck
!
Nog even een clipje, waarin Sam ontdekt dat zijn broer Michael een vampier is. '
Just wait till mum gets home!
'
Labels: corey haim